We are very pleased to announce that we will be doing the Stonefence Gardens Arts and Crafts Festival and hope that if you are looking for a fun way to spend a weekend, you'll join us and stop by the Miller Modern Art Booth to say hello.
The show is outdoors in a beautifully wooded area; the whole place has a Native American feel to it. There's a gift shop located on the property with a great deal of handmade goods- Stone Fence is known for their handmade crafts, specifically chainsaw carvings done by John.
Each year, they set up an outdoor grill with food (the best hamburgers around- my husband swears by this), pony rides for the kids, and music in addition to the show. This year the artists will be showing a variety of fine arts and crafts including jewelry, paintings, fine art prints, carvings, handmade woven baskets, hand-stretched Native American drums, sculpture artists, a blacksmith and art demonstrations.
Stonefence Gardens Arts and Crafts Festival
September 19th and 20th 10am to 5pm
6610 mountaindale rd.
Thurmont md 21788
Off of Route 15
See you there!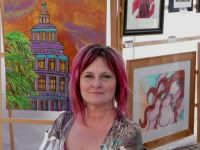 …